5 Steps to Run a Course Retrospective (and reasons why you should)
When end of course emotions are high, a 4 Ls Course Retrospective lets you know how to improve the course and what actions to take.
Once upon a time there was an earnest course leader guiding the team of teachers, assistants and course administrators through their first cohort of students. Being the very first cohort, things didn't always go to plan. Being a remote working team, frustrations rose and occasionally anger and exhaustion set in. Perhaps some felt like giving up or quitting altogether.
Luckily, this earnest course leader knew that if this situation was left unattended until the next run of the course, things would only escalate and she might even lose good members of the team. It was right at the end of the first course cohort when relief and celebrations were high that she found the solution, the 4 Ls Course Retrospective.
What is the 4 Ls Course Retrospective?
Based on the 4 Ls retrospective initially developed by Mary Gorman and Ellen Gottesdiener, the 4 Ls Course Retrospective is an activity for the whole course team upon completion of a course designed to understand what worked, what didn't, and what can be improved. The 4Ls stand for liked, learnt, lacked, and longed for.
After a completion of a course, it can be helpful for the team to pause and take stock of what happened. Emotions can run high, so it can be difficult for teams to have a discussion that isn't influenced by frustration or joy. The 4 Ls Course Retrospective is a useful tool that empowers the team to highlight the positive elements of a course cohort and understand the negative, allowing them to think from a factual rather than emotional perspective.
Why use the 4 Ls Course Retrospective?
The 4 Ls Course Retrospective is specifically focused on action and improvement, and can build trust, improve morale, and increase engagement of the course administrating team.
How to run a 4 Ls Course Retrospective
Decide if you are going to have a meeting and run the retrospective synchronously or set up a space and send an email to run it asynchronously.
Step 1 - Set the tone and expectations
Especially if the tensions ran high at times, address openly any stressful or frustrating parts openly and honestly. Also, highlight the importance and value of both the course and doing a retrospective. This could be sent out in the emailed invitation to your 4 Ls Course Retrospective or talked about at the start of the meeting.
Step 2 - Set up your space
Whether you will hold a meeting (online or physical) or run it asynchronously, you'll need resources to run your retrospective smoothly. For a physical meeting that involves lots of sticky notes, pens and a whiteboard or posters. For a virtual meeting or asynchronous event, you'll need a system for collecting the reflections of your team.
If your team is in Notion, this handy Course Retrospective template for Notion is implementation ready. It clearly guides you and your team through these steps from the beginning to enthusiastically deciding on actions to take for improving the next run of the course.
How does the template work?
Click Duplicate on the top right to copy this template to your Notion workspace. Once duplicated, you have your own guided team exercise to reflect and improve on your recently completed course cohort.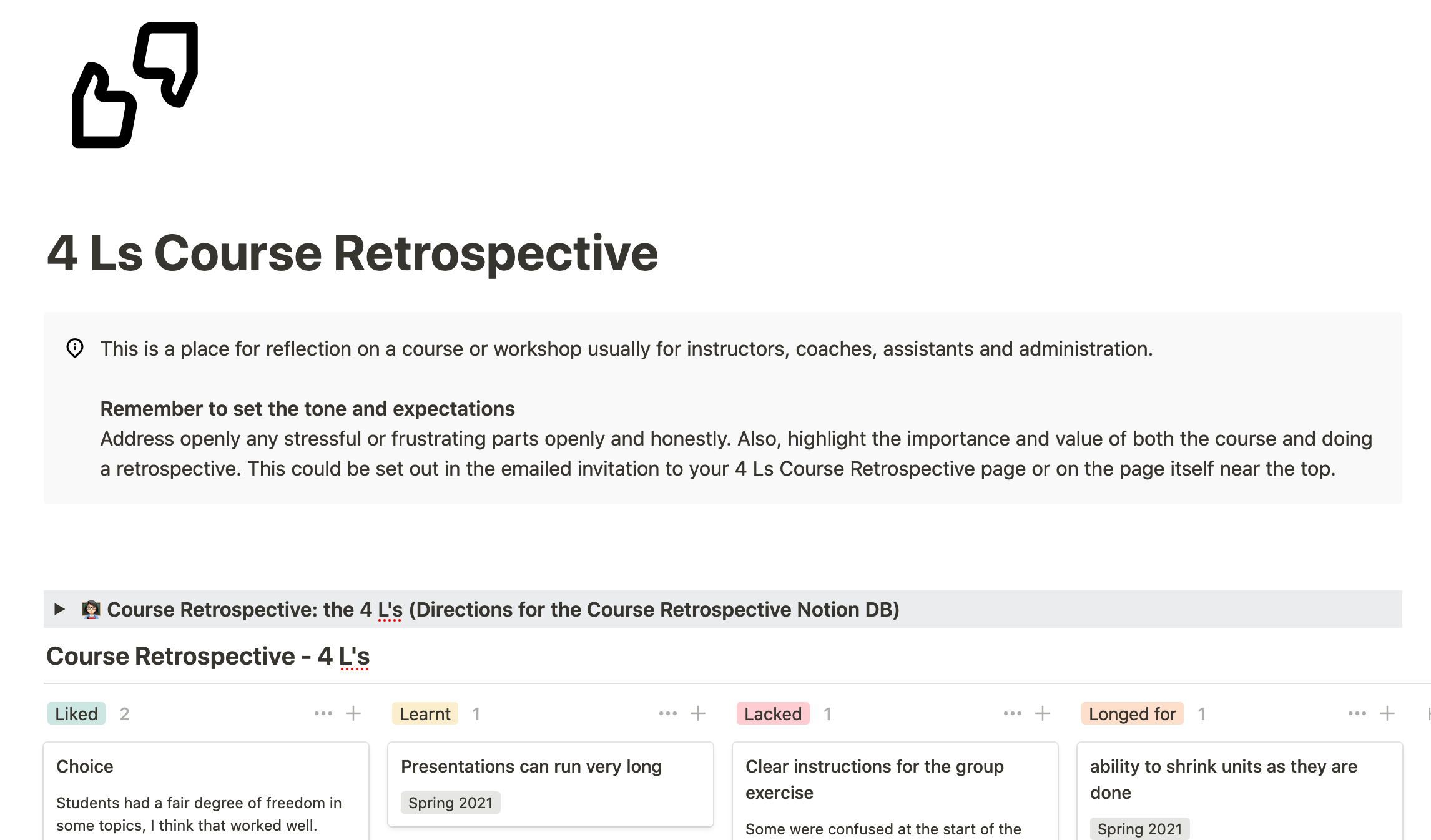 Step 3 - Run your Course Retrospective
If this is a live meeting, you can guide the team to think about things they liked first, learnt second, then things lacking and finally things longed for (in that specific order).
Participants write a sticky note or create a card for each of the areas in turn.
Liked – What did you like about the last running of the course? This could be anything from an activity, an assessment, a particular rubric criteria or even a student piece of work.
Learnt – What things did you learn from running the course? These are any new discoveries, points of interest or highlights.
Lacked – What seemed to be missing from the last running of the course? On reflection, this might be something that was unclear or needed to be implemented to ensure that things continue to run smoothly.
Longed for – What is something that you wished existed or wished was possible? Something that would help the course to be more successful or smoother for you or the students.
If their thought is already on a card and they could add their support by using a ✅ or 👍🏼.
Step 4 - Acting on the Course Retrospective
Have the whole team brainstorm actions to fix the negatives and amplify the positives with questions such as:
What's one action we could take to remove something from the LACKED list.
What's one action we could take to amplify something from the LOVED list.
Use the LONGED FOR and LEARNT lists to help shape ideas for what actions to take.
Work on assigning those actions while they are fresh in everyone's mind.
Step 5 - Celebrate!
Whether it is from valuable lessons learnt or successful student learning, every course cohort is very much worth celebrating (and celebrations are very rewarding for your team keeping moral high). This is also your opportunity to thank everyone as a whole group or in individual conversations throughout the party.
When the end of a course comes around there's a small window of opportunity to gather very valuable information that is locked inside people's heads. That's where running a 4 Ls Course Retrospective can be extremely valuable and informs about how to improve the course and what actions to take next.
Free template for members!
Grab the 4 Ls Course Retrospective template for free as a member.